Since the outbreak of COVID-19 in early 2020 it is essential every surrounding that is highly populated revises their cleaning system and becomes compliant with the new government rules.
The pandemic has not only altered people's lives but it has made us all re think about our work spaces, what we touch and how we can prevent bacteria spreading. Not only do we need to look after ourselves more but it is vital that we surround ourselves in a healthy, clean environment.
How can we help you
Introducing PU Edging a highly durable, resistant edging solution which you can customise to any surface. It can be produced in almost any shape or profile to suit your requirements, from bookcases and doors to classroom tabletops.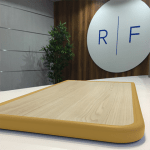 PU Edging on furniture doesn't have to be formal either, with swatches from the RAL and Pantone colour charts available to choose from, it's easy to match your surfaces to your school branding. So, why not brighten up classrooms with different coloured table tops and contrasting edging. Afterall, now more than ever it is crucial to create a fun environment for teaching and learning.
With over thirty years' experience in making PU edges, you can trust us to produce the highest quality results.
Method behind the solution
We can provide an anti-bac, laminated table top whilst including the PU edge. A hermetical seal is created between the PU edge and core material to stop bacterial becoming trapped. The seal is so durable it means that it cannot be prised or picked away, ensuring a long-lasting lifespan.
If you're interested and would like more information please contact us or call us directly on 01952 587277.