Macmillan. Worlds Biggest Coffee Morning
At Retail Furniture we to took part in the Worlds Biggest Coffee Morning on Friday 24th September 2021 fundraising for Macmillan. 
We wanted to raise as much money as possible for the fantastic charity as it helps fund all of their work, helps everyone from their nurses to their financial advisors providing the best care for people living with cancer.
Now that the rules have lifted we decided it was perfect timing to hold a Bake Sale and play "Retail Furniture Bake Off". We still maintained a level of caution – nobody licked the spoon!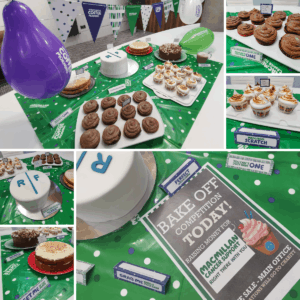 5 staff members took part in baking a variety of cupcakes and cakes ready for Friday morning. Delicious treats from Victoria sponges, lemon meringues, chocolate cake and our very own branded Retail Furniture sponge! The competition was hard and they all did brilliantly, however, there could only be one winner!
Well done to Luke Elmer, our Workshop Manager who won with his dark chocolate cake with taste, texture and overall look!
After a successful day of fundraising £262 was raised for Macmillan!

We're so happy that everybody got involved from baking, buying and eating. It was a great company success and we're looking forward to the next one.
To continue raising money for Macmillan Cancer Support visit this link – https://www.macmillan.org.uk/
You can find us on LinkedIn, Twitter, Facebook, Instagram and YouTube so get social with us!
Back to Blog Page